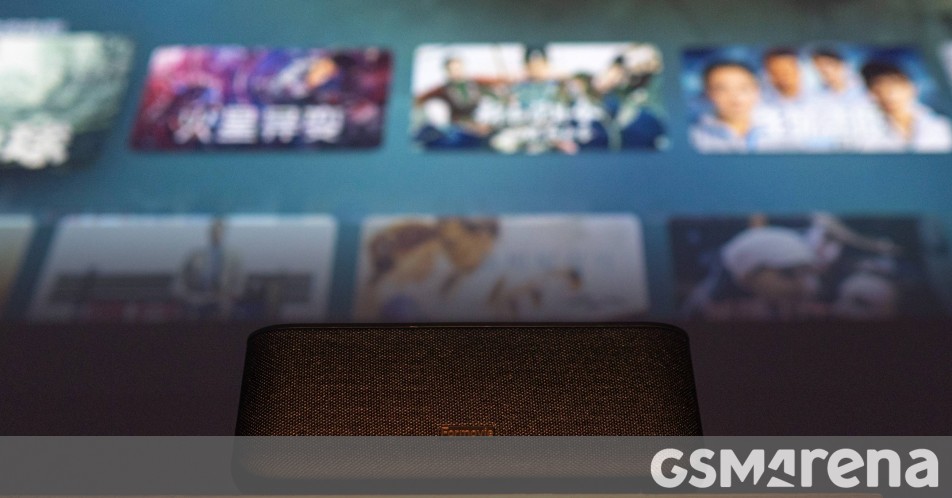 What is an ultra-short-throw projector, and why would you want one?
As the name suggests, an ultra-short-throw projector or UST needs very little space between it and the projection surface to cast a large format image. This is achieved via ultra-wide lenses and light source and lens arrangement that can be quite challenging to pull off, particularly in a small form factor. By some standards, a projector needs to have a throw ratio of less than 0.4:1 to qualify as UST.
This kind of setup is desirable for a number of reasons. First, there is the question of space. With a traditional projector, you need a pretty big room to get a decent size image. You can use this nifty calculator to get a rough idea. Most traditional projectors tend to have a 2:1 throw ratio – you need to have the projector about 5 meters away from a surface to get a 100-inch image. With its 0.23:1 ratio, the FENGMI R1 Nano can get a 100-inch image while placed just 58 centimeters away from the projection surface.
That allows you, among other things, to have the projector in front of you and hence make better use of any onboard speaker system it might have while also keeping the noise from its cooling system as far away as possible.
Also, a UST projector is typically meant to cast up from a surface, like a table or a media cabinet, whereas you typically want to mount a standard projector on the ceiling to get the best image with the least amount of keystone correction. That means installation is normally far easier.
You can see how all of these qualities are hugely beneficial for a portable projector. Which makes the subject of our review today, the FENGMI R1 Nano, particularly significant. It has 1080p native resolution and there are few if any truly portable 1080p Laser UST projectors on the market at all.
The FENGMI R1 Nano introduction
FENGMI may not be a household name in western markets, but the brand is is part of the vast Xiaomi/Mijia ecosystem and is well received in China. Overall, you can expect to find similar projector hardware under the FENGMI and Wemax brands, and some models even end up with the Xiaomi badge. Some of those even get international releases. It's a whole convoluted system that we won't be getting into right now. For anyone really interested in researching, purchasing and modding a similar unit, we will link this excellent thread on the xda-developers forum.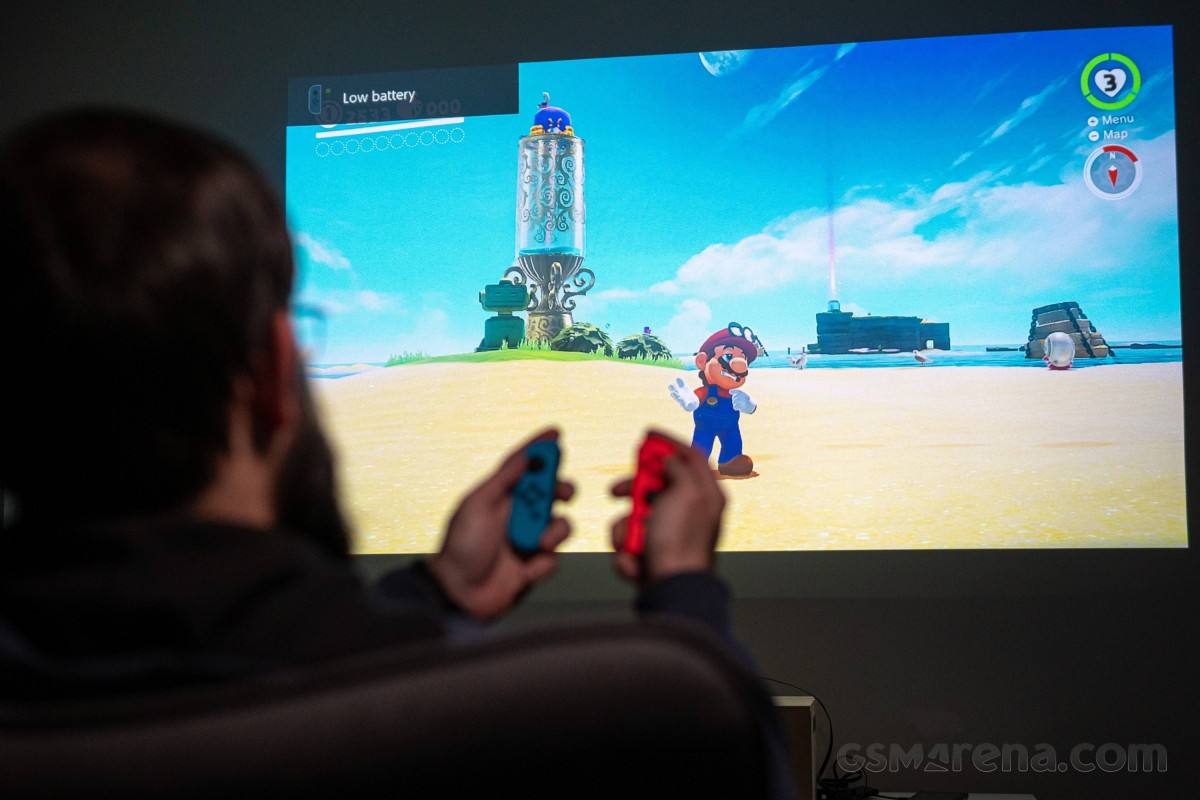 Anyway, back to the FENGMI R1 Nano. It is a distinctly Chinese unit that we purchased for ourselves since its specs sheet makes a few impressive promises. The R1 Nano is an ultra short throw (UST) projector that uses ALDP technology (Advanced Laser Phosphor Display) – one of the most advanced current fluorescent laser technologies and promises 1080p native resolution. All of this in a compact and lightweight (relatively speaking) body (1.44kg) and with an affordable (again, relative terms) price tag of around $800.
FENGMI R1 Nano specs at a glance:
Dimensions: 200x200x70mm, 1.44kg.
Optical parameters: ALDP (Advanced Laser Phosphor Display) UST (ultra short throw) DLP projector; 1080p (FHD) optical resolution; 2000:1 contrast ratio; Glass & resin lens.
Projection parameters: 1200 ANSI lumens (advertised); 40~100-inch screen diagonal; 0.23:1 throw ratio; 25,000 hours light source life; 0.23″DMD display chip.

Optical adjustment: Automatic software electric focus; Omnidirectional automatic keystone correction (8-point correction) and manual keystone correction.

Audio: Two 5W Hi-Fi speakers; Audio output via 3.5mm jack (stereo) and multichannel ARC over HDMI; Dolby Audio and DTS HD audio decoding.

Internals: Amlogic T972 (12nm) (4xCortex-A55 @ 1.91 GHz); Mali-G31 GPU (OpenGL ES 3.2 and Vulkan 1.1); 3GB of RAM; 16GB eMMC storage.

Hardware video decoder: Up to 8K (7680×4320 pixels) video with 10bit YUV4:2:0 color depth support and dynamic HDR (HDR10 and HLG decoding, but no HDR projection support); Widevine limited to L3 (SD streaming only);

I/O: 1xUSB Type-C port for power (PD up to 90W); 1xUSB 2.0 Type-A; 1xHDMI 2.0 (full-sized with ARC and CEC support); 1×3.5mm stereo audio output jack; Far field microphone setup for voice assistant.

Wireless connectivity: Wi-Fi ac; Bluetooth 5.0.

Software: FengOS on top of Android TV 9; No Google services.

Other features: Automatic human detection and dimming; Far-field voice control; Remote control in box; Wireless projection support (Miracast, Apple AirPlay, Huawei Cast+, XiaoMi Projection); Xiaomi Mi Home integration; Bluetooth speaker mode.
The R1 Nano offers an auto keystone correction system, as well as automatic human detection and dimming to prevent eye damage. It advertises a display size from 40 inches to 100 inches, which mostly checks out and 1200 ANSI lumens of output, which is pretty liberal. But, we'll get to that.
Also, on the list of hardware highlights – a 2x5W Hi-Fi speaker system, which sounds pretty impressive in practice and an HDMI input port, and a USB Type-A port.
In terms of "smarts", the R1 Nano packs an Amlogic T972 chipset, which is capable of up to 8K video decoding, with HDR support. The R1 Nano itself can also handle DTS HD and Dolby Audio decoding. It is paired with 3GB of RAM and 16GB of onboard storage.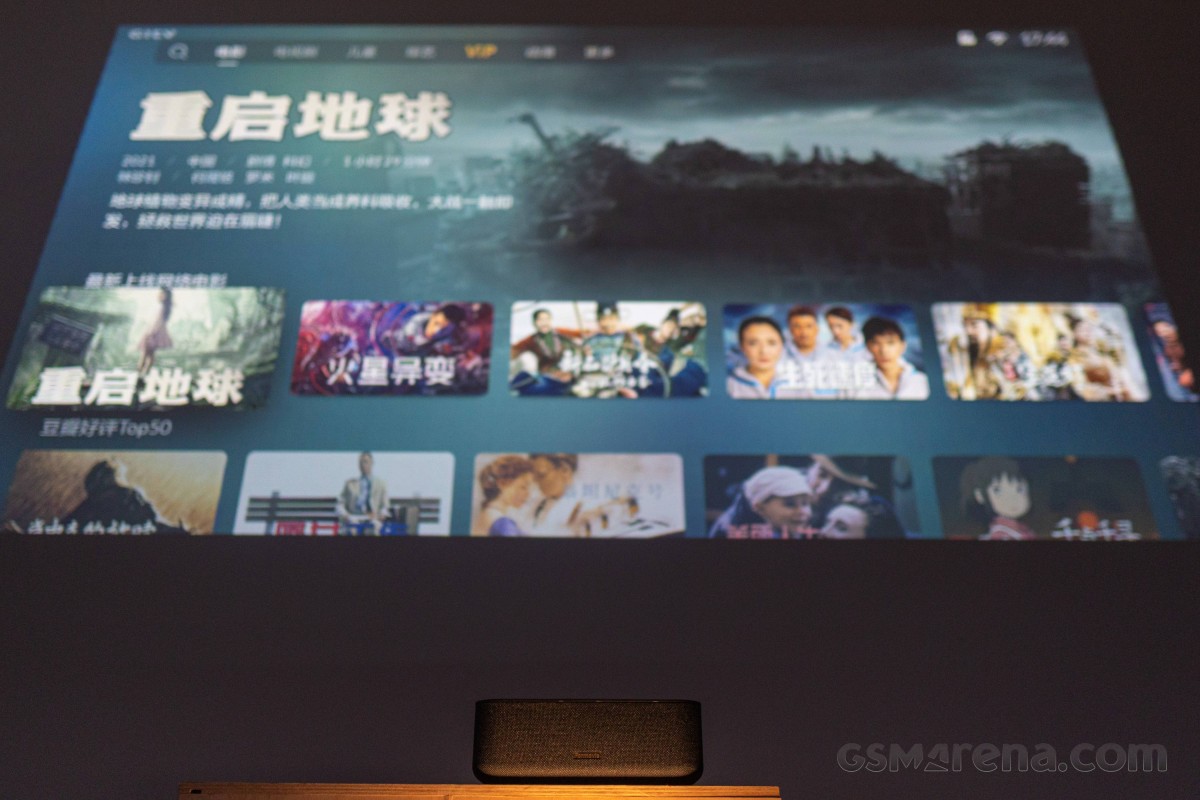 This is a Chinese model, and it is running FengOS, which appears to be based on Google's Android TV 9 with some heavy customization and plenty of bloatware on top. Software is probably the biggest woe the Chinese FENGMI R1 Nano has, particularly for a western audience, in no small part due to the lack of Widevine DRM certification.
Thankfully you can tweak the OS to a usable state where the vital settings are easily accessible and then use a third-party HDMI device to do the actual media playback or rely on wireless streaming, which is quite fully-featured on the R1 Nano. We will cover the OS side of things in more detail in a bit.
Unboxing
Our FENGMI R1 Nano came in a nice thick cardboard box with a convenient carrying handle and plenty of padding on the inside to stop the actual unit from shifting around. The box is a bit oversized for its contents, so it is not exactly ideal for transportation.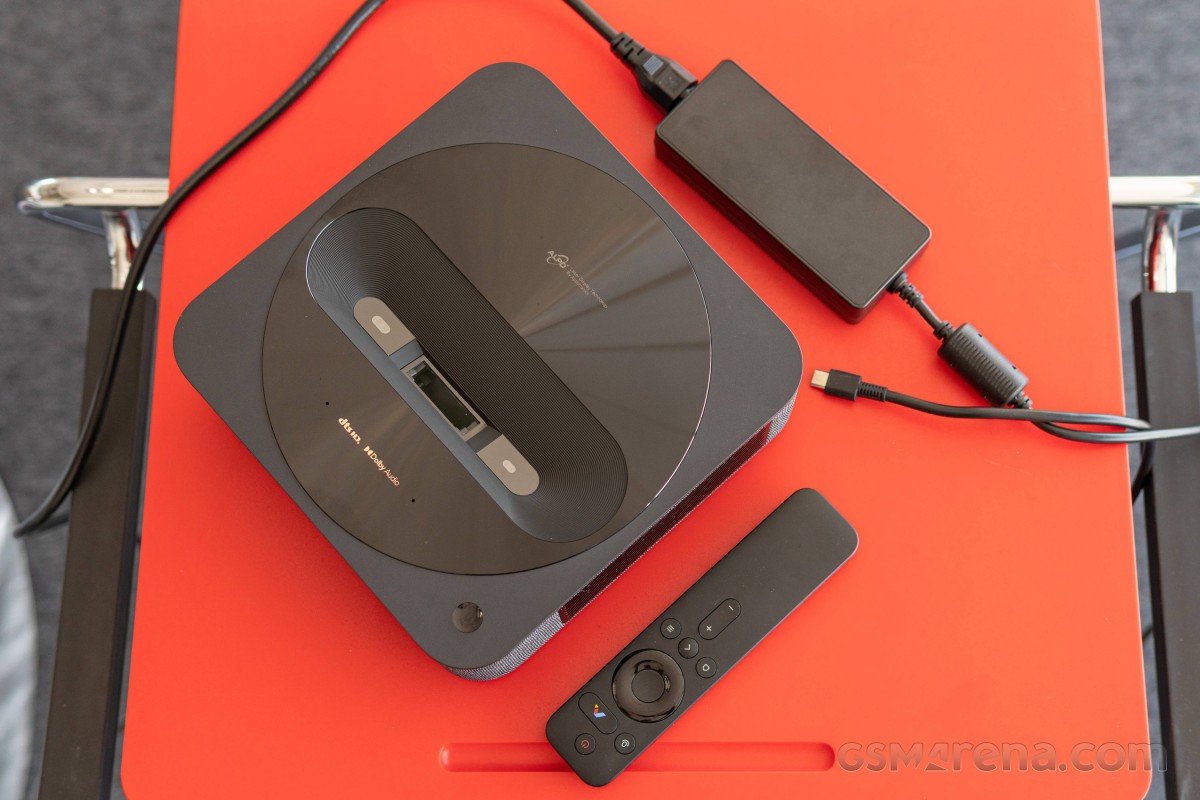 There are practically no additional accessories inside the box. You get a two-piece AC adaptor with nice thick cables that takes 100-240V @ 50/60Hz and does Power Delivery 3.0. It is rated for up to 5V@3A, 9V@3A, 12V@3A, 15V@3A or 20V@4.5A or a max of 90W. It can charge a bunch of your other gadgets with its USB-C cable, which we appreciate. Also, in a pinch, you can power the R1 Nano from another PD charger if you have a reasonably beefy one.
The only other thing in the box is the proprietary remote control. Nothing else – no plastic packaging, no zip ties, not even a single piece of documentation.
Hardware, ports, sensors and remote
The FENGMI R1 Nano has a cool modern aesthetic going for it. At 1.44kg and measuring 200 x 200 x 70mm, it is not massive by any stretch of the imagination, but still it feels solid and dense. Reassuring if you will. This, combined with grippy feet, allow it to stay firmly in place on most surfaces and not skit about if you happen to bump them.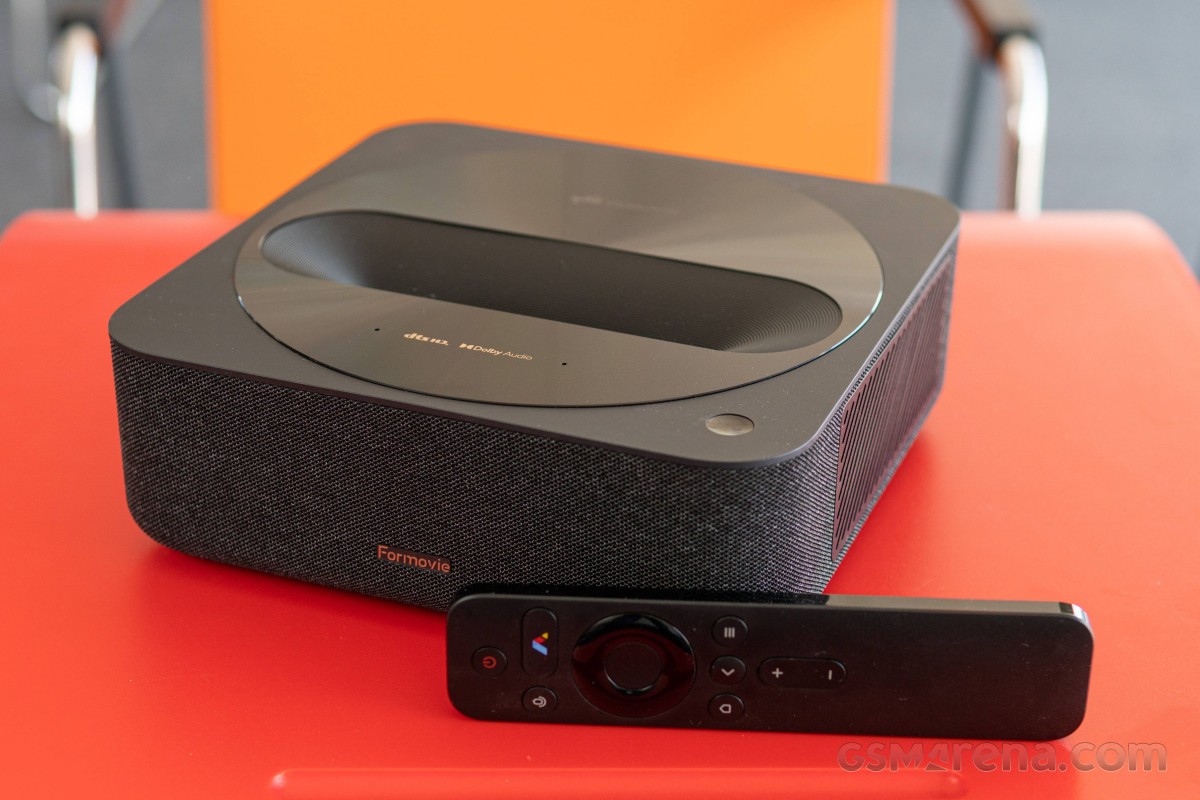 The R1 Nano has a thick mesh fabric material running over its side. It's similar to what you would find on a speaker and looks very natural as part of a media cabinet setup. The top is made of two types of plastic. The outer brim is matte and seems well resistant to dust and scratches. We are not sure why FENGMI decided to make the inner plastic glossy. It is prone to scratches, gets dirty easily and readily shows its smudges.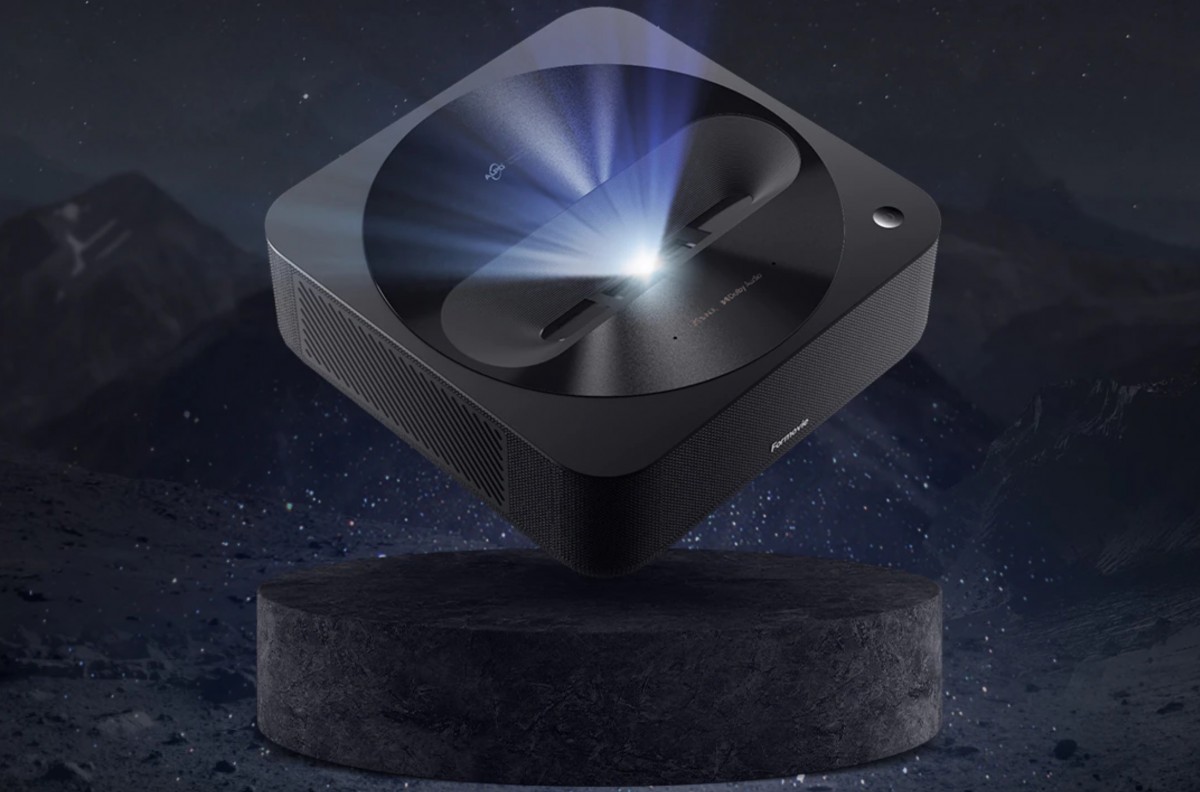 Speaking of top side, as is the norm the optics of this UST projector point upwards. However, unlike the usual setup with these things here we no cover to protect them on the R1 Nano, which is a definite minus. After all a portable projector is meant to be carried around and having the lenses so readily exposed is a liability. We would personally invest in a nice soft pouch of some sort.
Another thing the R1 Nano lacks is height adjustment so you can manually do some keystone work yourself instead of just relying on the optics. It is always best to physically level and position a projector as best as possible before applying any other image fixes since those tend to take away from quality and often lead to some compromises. At least there is a standard quarter-inch mounting point on the bottom of the unit.
FENGMI also offers an odd vertical-mounitng bracket that can be used to project an image on a table. We couldn't think of a single use case for this, but maybe some of you will.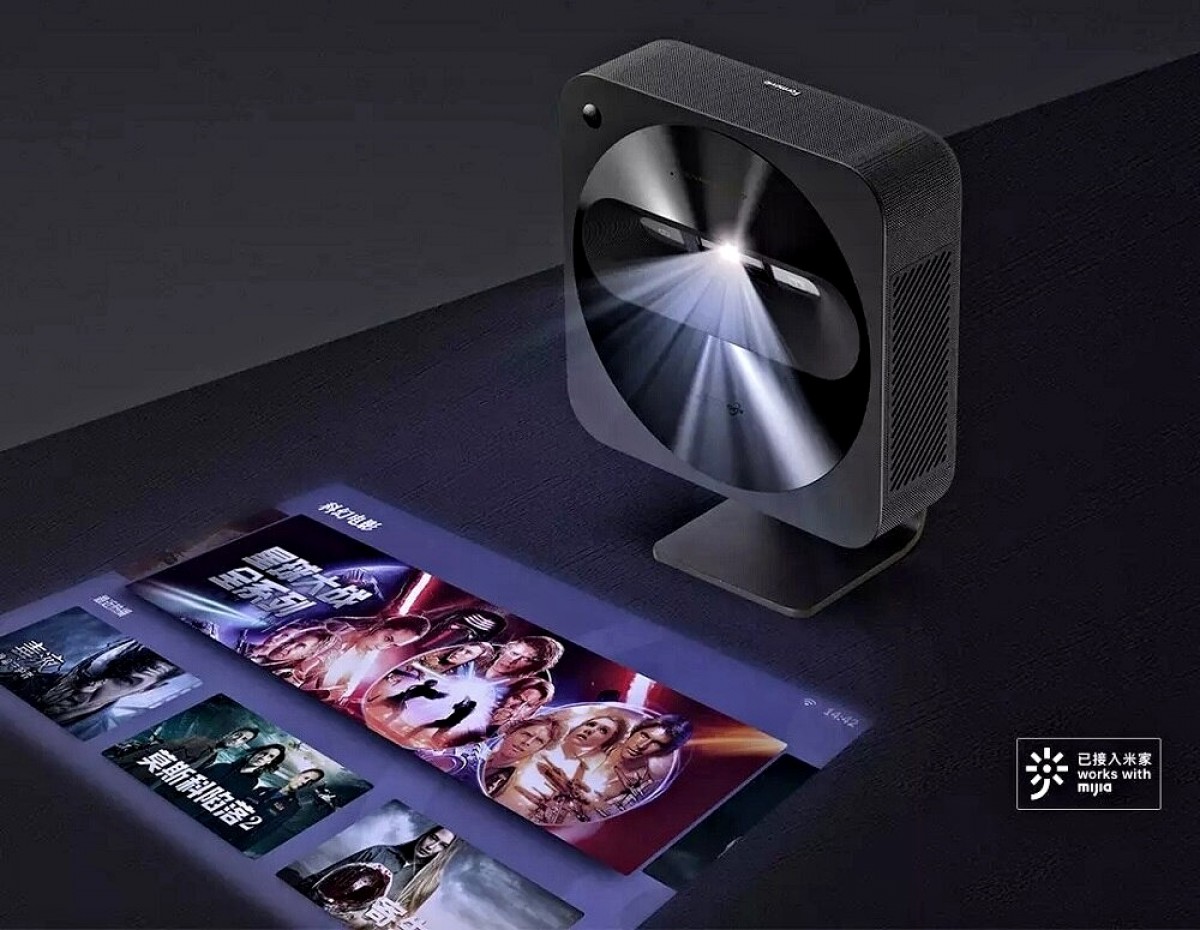 The two big grilles on either side of the unit are there mostly for ventilation. There is at least one fan on the inside of the R1 Nano, which is surprisingly quiet. Even after prolonged use, it was barely audible.
On the other hand the two 5W speakers sound quite impressively given their size. The sound stage is rich, mids and highs sound great, and there is practically no distortion even at full blast. There is practically no bass, though. There are quite a few audio modes to play around with, which we will get to in a second.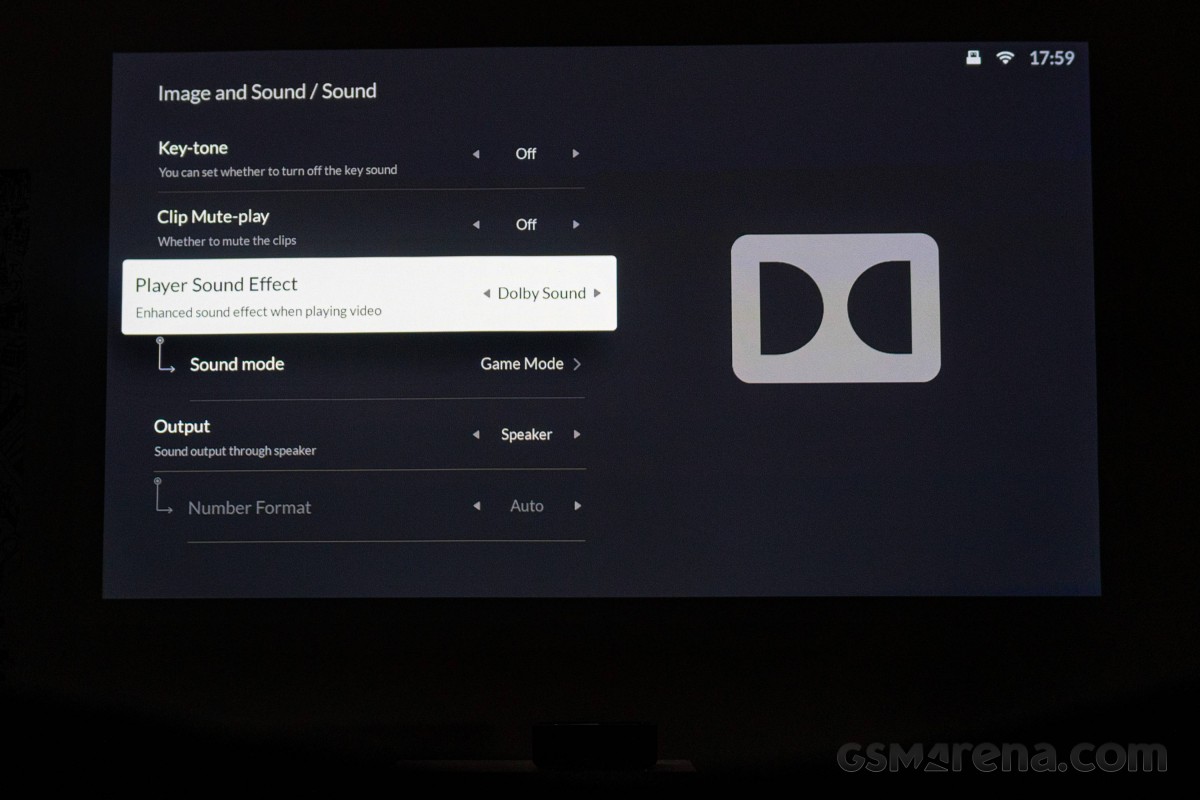 The R1 Nano has a rather slim selection of controls and I/O on it, but at least the basics are covered. There is just a single power button on the top. The ports themselves are tucked away deep inside the body of the unit, with access from the back (the side facing the projection surface). This does mean that you can completely hide something like a flash drive or ever an SSD there, but actually getting to them is very hard and inconvenient, particularly if the projector is already powered on since you have to go in the way of the projection, and you can easily blind yourself (before the automatic human detection system kicks in). It might have been less aesthetically pleasing, but it would have certainly contributed to usability if the ports were on the opposide side.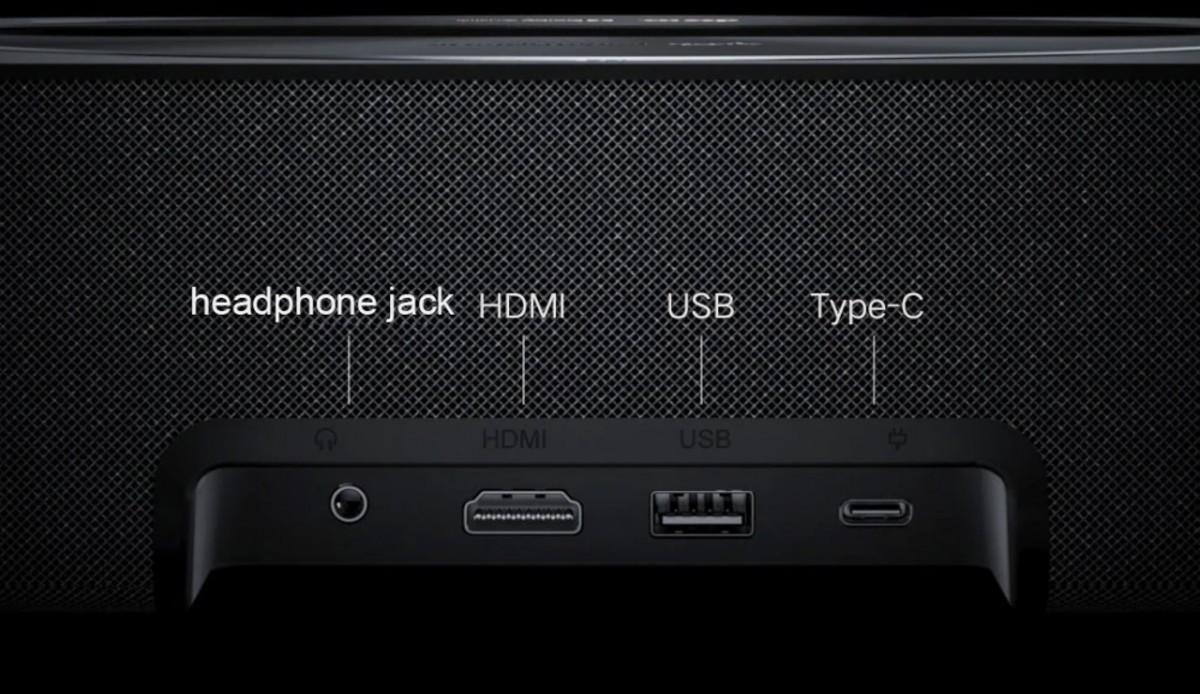 The R1 Nano has a single Type-C port, which is meant for power and doesn't appear to be wired for data. At least we didn't manage to make it work with a Type-C hub we had lying around. The USB A port appears to be a USB 2.0 one, though with the limited Android TV software we have no reliable way of testing that. It managed to power an external SSD just fine, as well as a 2.5-inch external hard drive, so there is that.
The full-sized HDMI port supports the 2.0 spec. Not that it matters that much since the projector is limited to 1080p anyway. The port is well-equipped in terms of additional features and supports both ARC and CEC.
Last but not least, there is a trusty old 3.5mm jack. There is no optical audio interface, though, which is a bit of a bummer, but HDMI ARC is a great alternative.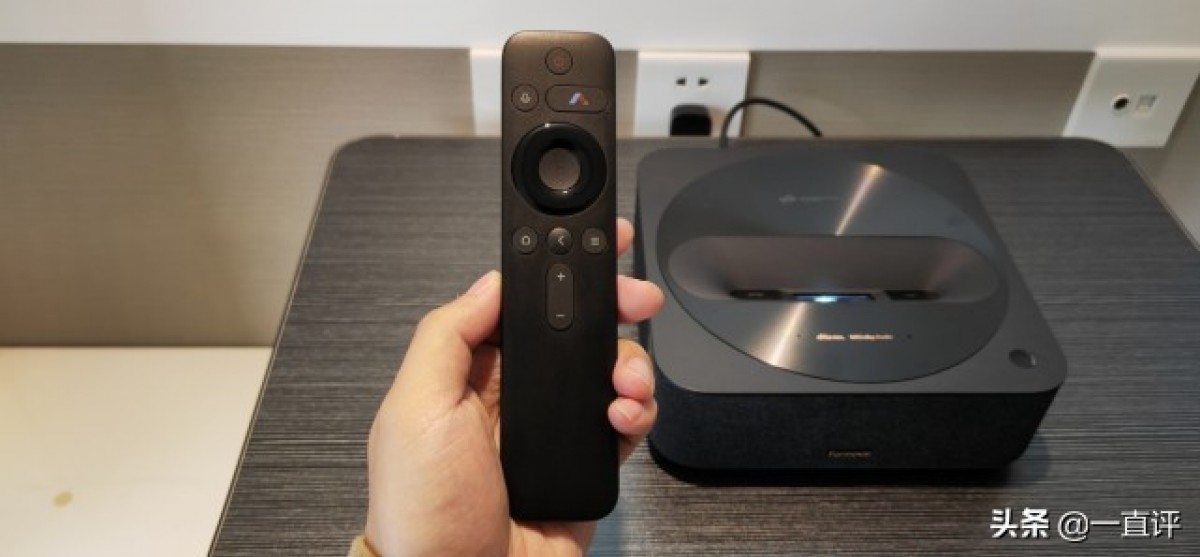 The included remote is pretty minimal when it comes to controls. You only get the basics, which is unfortunately not enough if you actually plan on sideloading some less than TV-optimized apps. We would have at least appreciated some dedicated playback controls. On the upside you can attach most standard Bluetooth keyboard and mice to the R1 Nano, which is great. We will mention all that and button remapping in the software section.
Why is ALPD the next major step?
Let's get some basics down for anyone not intimately familiar with current popular projector tech. In very simple terms, there are a couple of main ways to generate the light needed to project an image. The simpler solution of old is using a bulb of some sort. The most common technology out there is based on Metal halide and UHP (Ultra High Performance) lamps – a technology dating back to the 1960s. These types of projectors frequently require maintenance on things like filters, and the lamp itself has a life expectancy of around 3,000 hours on average. An alternative to these lamps is using an LED light source, which lasts significantly longer – around 20,000 hours. And then there is the best currently available light source option – a laser.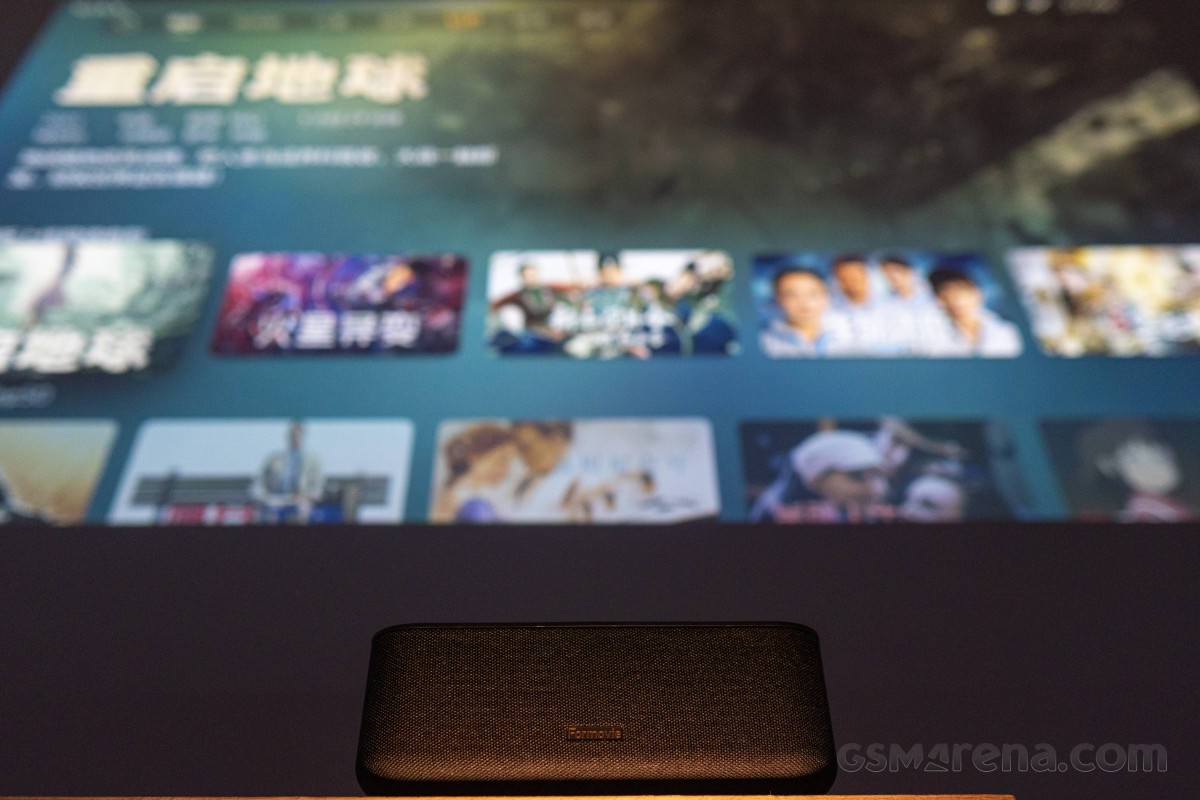 Most projectors out there tend to be marketed as DLP, LED, LCD or Laser, like the FENGMI R1 Nano. Barring some exceptions, most projectors simply branded DLP are lamp-based, require filters and have a light span of around 2,000 – 3,000 hours. DLP itself stands for Digital Light Processing – a chip that uses a chip made of tiny microscopic mirrors and a spinning color wheel to create an image. DLP chips are also used in other projector types, notably Laser ones.
A projector marketed as LED is typically a DLP projector that swaps the lamp for an LED light source that should last around 20,000 hours, consumes a lot less power and has virtually zero maintenance. It is, on average dimmer than an LCD or DLP projector, but also much smaller enabling things like pico projectors.
On the other hand, LCD projectors tend to require constant filter maintenance. They do not have a DLP chip, hence fewer or no moving parts. On average, they are more budget-friendly due to their simpler one-chip implementation, though usually at the expense of image contrast. You can get three-chip LCD projectors that address some of those issues but are also more expensive as some sort of middle ground. LCD units tend to offer very sharp image but sub-par contrast.
The FENGMI R1 Nano is an ALPD projector, which stands for Advanced Laser Phosphor Display, which is one of the most advanced fluorescent laser technologies. Laser projection basically has all of the benefits of LED projection – the light source is compact and energy efficient and allows for easier non-standard optical angles, which is precisely what the ultra-short-throw optics on the R1 Nano are. You also get the benefits of virtually zero maintenance and around 20,000 hours of life expectancy for the light source. One of the major benefits of laser projection over LED is the availability of significantly brighter light output (theoretically up to 30,000 lumens).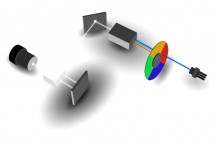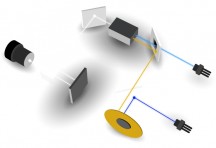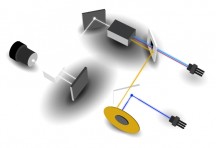 ALPD technology: V1 • V2 • V3 • V4
ALPD has been through a few interesting iterations throug the years. Unfortunately, FENGMI does not offer any official information on the ALPD version the R1 Nano uses. Still they share the core principle of having a laser as the primary light source, usually a blue laser, which then shines onto a yellow phosphor-coated spinning wheel, exciting the phosphor-producing yellow light.
The yellow light is then separated using dichroic coatings to create red and green light, while the blue light component directly passes through a diffusion segment in the phosphor wheel. The separated red, green, and blue colors are then sent to an imaging surface like a DLP chip, which in turn sends the light through a lens and onto the projection surface.
So, technically, the FENGMI R1 Nano is still a DLP projector in a way. The R1 Nano also seems to have an internal railing system for adjusting the optics in multiple directions since it can do scaling, panning, and all sorts of keystone corrections, both manually and automatically.
Projection performance, features and settings
The R1 Nano delivers surprising performance for its small size. The first impression can be quite striking if you haven't experienced an ultra-short-throw projector before. If you push the R1 Nano right up against a wall or other surface, you can end up with an image as small as 40 inches in diagonal. With a lens ratio of 0.23:1, you can get the maximum 100 inches advertised diagonal image from the R1 Nano by placing it around 58 centimeters away from the projection surface. That's quite impressive and generally means that you can almost always have your projector as far away from where you are sitting as possible, which is great for preventing noise pollution. Not that the R1 Nano generates a lot of that. Its fans are surprisingly quiet even with prolonged use.
Another benefit of having the projector between you and the screen is that sound can come from a natural direction. As we already mentioned, the two 5W speakers on the R1 Nano offer a rich sound with practically no distortion even at 100% loudness. And they do get plenty loud. They just, understandable, are entirely lacking in the bass department.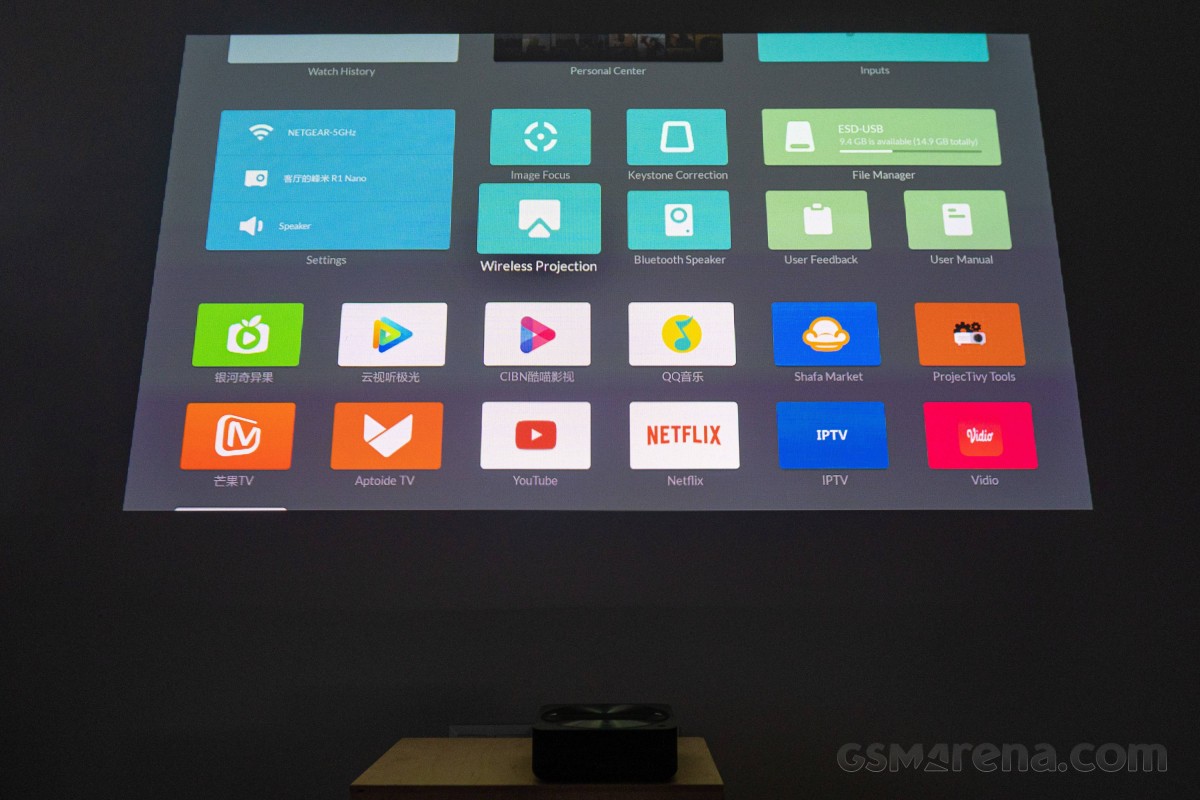 On to image quality and starting with brightness. The R1 Nano is bright enough to use in a dim room and really shines in complete darkness. It is only usable at very small screen diagonals during the day. Mind you, we didn't use a projection screen since the whole point of the R1 Nano is portability.
The advertised 1200 ANSI lumens of brightness is quite exaggerated. Granted, we don't have the proper equipment and setup to test projector brightness, but we did have an LG PH450UG ultra-short throw DLP projector at hand, rated at around 450 lumens to compare to, and the R1 Nano was perhaps just a bit brighter than that, not by much. We also compared the R1 Nano to a properly tiny Philips PPX5110, RGB LED DLP pico projector rated at 100 lumens, and we think that the R1 Nano probably outputs right around 500 lumens. Here is the R1 Nano next to the Philips PPX5110 just to get an idea of the size difference between what is a real pocket-sized pico projector and the R1 Nano. Needless to say, the performance between the two is not even comparable.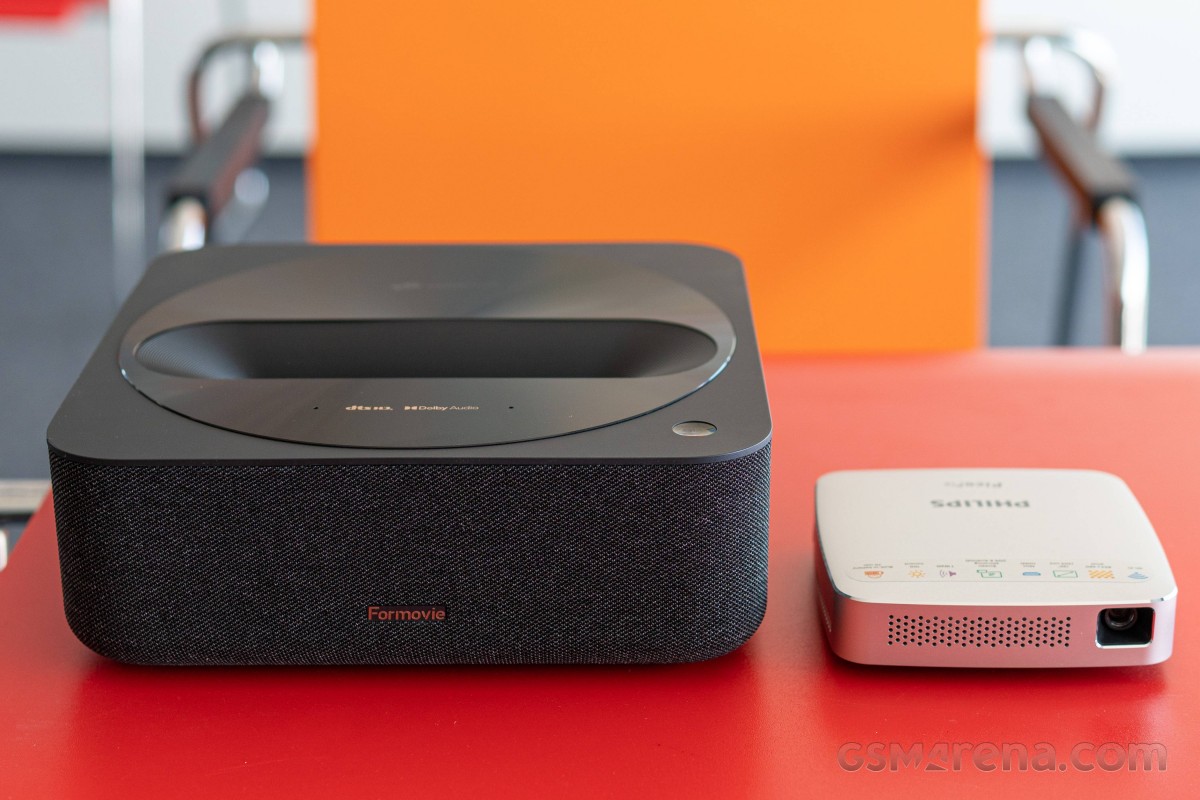 Left: FENGMI R1 Nano • Right: Philips PPX5110
We did make sure to go through all of the settings menus on the R1 Nano in search of more brightness, but there are only two relevant settings – "Office mode" and "View mode". The latter goes a bit brighter, but it's not a major difference by any stretch.
While the R1 Nano might not shine in the brightness department (pun intended), it still delivers outstanding picture quality. Contrast is great and black levels are impressive. The R1 Nano has quite a few color profiles to choоse from, but most of them don't make a major difference. Thankfully, a Custom profile lets you adjust individual parameters as you see fit.
The R1 Nano has a sophisticated set of image adjustment options. As we already mentioned, the R1 Nano can make a lot of adjustments automatically on its own. This includes things like auto focus on distance change and even automatic keystone correction. If you are after the best possible visual quality, you are probably better off disabling these, though, along with various motions smoothing and automatic image quality adjustment features.
The R1 Nano offers pretty convenient focus and keystone correction menus. These are two separate interfaces, though they do overlap somewhat in their functionality. The latter can make finer adjustments on a corner per corner basis.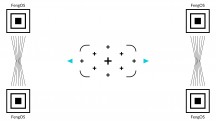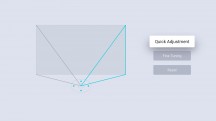 Focus and keystone adjustments
The R1 Nano can also be configured to project an upside-down image or even do back-projection if that is your setup. One particularly nifty function is the ability to "zoom" or rather scale down the screen and then freely shift it to the sides. This is particularly helpful for fine-tuning an image to a particular projection surface. Though, it should be noted that scaling down does harm overall sharpness as it wastes resolution.
At its native 100% the R1 Nano is impressively sharp. Having a 1080p native resolution is a big plus for the R1 Nano.
Hooking the R1 Nano up to a PC works well enough in 1080p mode. There is enough resolution to render fine text. It works better if you don't have chroma subsampling on and you probably want to enable YCbCr color mode on the PC. You can quickly change image settings for the HDMI port from a convenient context menu on the projector remote, including things like CEC support and color and display modes.
There is a Game mode, but even it has way too high latency to make gaming viable. Best you can hope for is to do text editing or a presentation on the R1 Nano. We found that "Display Mode" worked best for us while hooked up to a PC for the sharpest possible image.
While we were overall pretty pleased with the visual fidelity of the R1 Nano, we should note that our unit has a persistent and pretty annoying defect on the image. The far-left corner has a distinct yellow hue. It is probably an issue with the phosphorus layer or, more likely, some of the filters along the way, particularly in that edge area. If we zoom down the image to around 97% and then shift it to the right, the issue is not visible, but that comes at the cost of sharpness.
Moving on to sound settings, there are quite a few available. Dolby Sound works well for media consumption, although some profiles introduced audio desync, which then had to be compensated from other settings menus.
The vocal enhancement slider is particularly useful when using the R1 Nano's internal speakers. And your best bet for hooking up an external speaker system is HDMI ARC, which does support passthrough, as well as PCM downsampling. The R1 Nano can decode DTS HD and Dolby Audio, which means that with enough fiddling, you can get good quality multi-channel audio to work with the internal software. There is also a stereo 3.5mm audio jack to attach some simple bigger speakers in a pinch.
FengOS, features
The FENGMI R1 Nano has a built-in smart OS. We already mentioned some of its features and settings, but it's now time to give it a thorough examination. The settings menu is decently translated in English, straightforward and usable. So if you decide against fighting the uphill battle to get the built-in FengOS to cooperate and just rely on it for the occasional settings change, you should be good.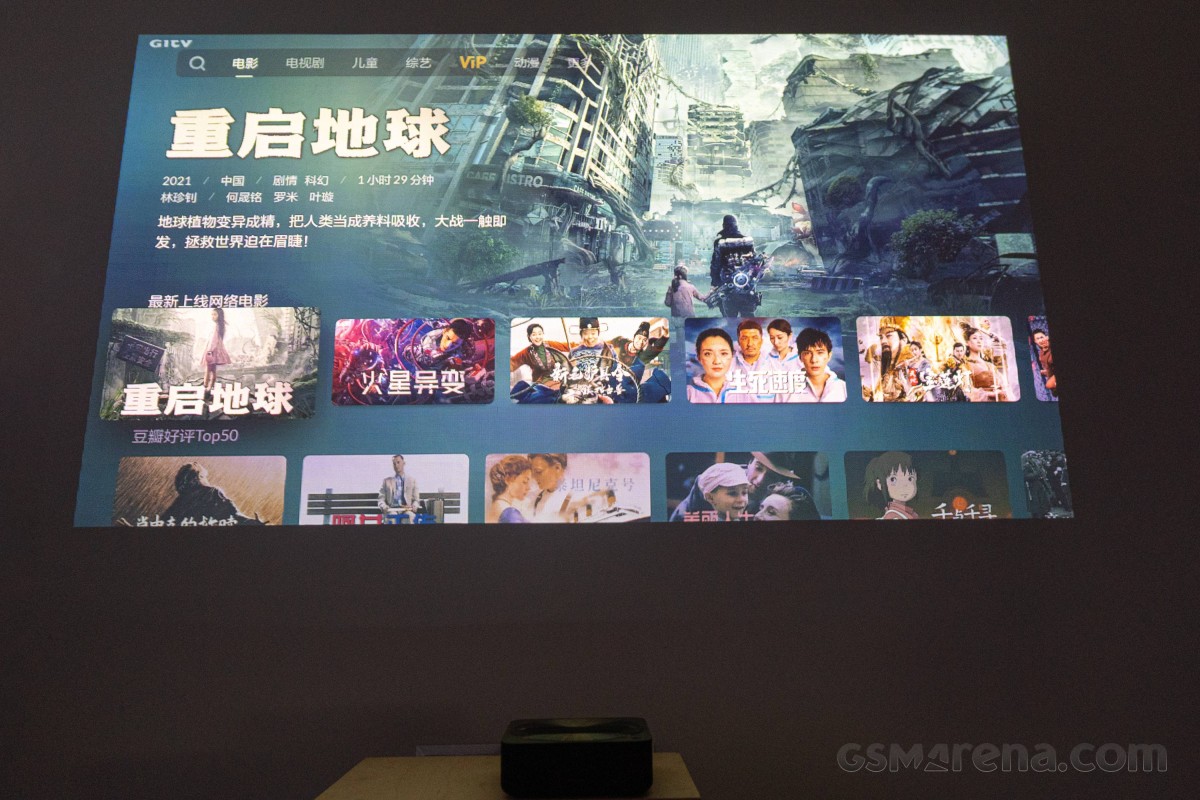 There is really not much info available online regarding FengOS and less of it still is in English. It is clearly based on Google's Android TV 9, which is both good to see since it is a recent version, but also not ideal since from what we managed to dig up, older versions of FengOS based on Android 6 were easier to root and then modify heavily to make more usable. A root on this version of FengOS seems possible but quite convoluted.
Why would you want to root the R1 Nano, you might ask? Well, mostly to get rid of the lots Chinese localizations that come out of the box. There seem to actually be two launchers on the R1 Nano. Pressing the home button after it boots takes youto the Formovie Desktop. It has a Streaming-service style home screen full of content to presumably watch on the Gitv platform, complete with info and even trailers and previews if you wait long enough for the content to be fetched all the way from the Asian servers.
On the plus side, this launcher does come with a translated side menu with an input selector as well as convenient shortcuts to various settings and features. We won't be going through all of the features, but here are some highlights. You can set the default power-on state of the projector after a power outage, as well as a default input to automatically play from. The automatic human detection and dimming feature is here as well.
The R1 Nano actually has robust wireless casting support. It can apparently accept Miracast, XiaomiMi Projection and Huawei Cast+ on the Android side, as well as Apple's AirPlay and even some proprietary app cast tech we are not entirely familiar with.
The Bluetooth device connection menu is a bit convoluted and confusing but does allow you to connect any kind of standard HID device.
Speaking of Bluetooth, the R1 Nano can act as a Bluetooth speaker, which is a nice trick for when you don't need the large screen. It is actually a special mode the R1 Nano can enter into and subsequently turn off its projection.
Feng OS also offers integration with Xiaomi's Mi Home. You just need to connect your Xiaomi account, and then you can control your smart devices via the R1 Nano if that is something you feel like doing. The FengOS built-in voice assistant also seems to come courtesy of Xiaomi.
The R1 Nano's alternative launcher is called Launch Board. It also has a dedicated button on the default remote control and is much cleaner than the default one. There is a lot less Chinese content here, and the access to various settings is more convenient. Unfortunately, there is no way to switch the default launcher.
Our R1 Nano unit did come preloaded with one particularly interesting app. called ProjecTivy Tools. It is a well-known and pretty popular tool on an Android TV projectors, offering a few intriguing features, among which is a convenient repository of third-party apps that you can just install on the device after enabling unofficial sources in FengOS settings.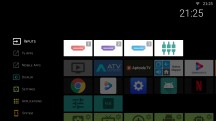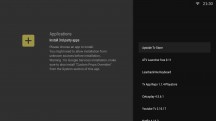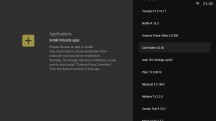 ProjecTivy Tools and third-party app installs
If your unit happens to be rooted, ProjecTivy Tools can even try to sideload a set of Google Services, including the Play Store. Unfortunately, this wasn't the case for our R1 Nano, but we did manage to install the Aptoide TV store with one click, which has a ton of awesome TV apps to subsequently install.
Another nifty trick ProjecTivy Tools can do is open a few different settings menus that are likely to still exist on your modified Android TV or FengOS ROM but are not available anywhere in the UI.
ProjecTivy Tools lets you set any app you want to launch on device startup. We used that in conjunction with Button Mapper for Android TV, which allows you to remap all of the buttons on the included FENGMI remote, even the dedicated Launch Board button. You can also set actions for double clicks and long presses. Once we set the home button to also launch Launch Board, we effectively managed to swap the launcher on the R1 Nano, and the same can be done with any third-party launcher as well, like the ATV launcher. Changing the default Chinese on-screen keyboard was also quite straightforward.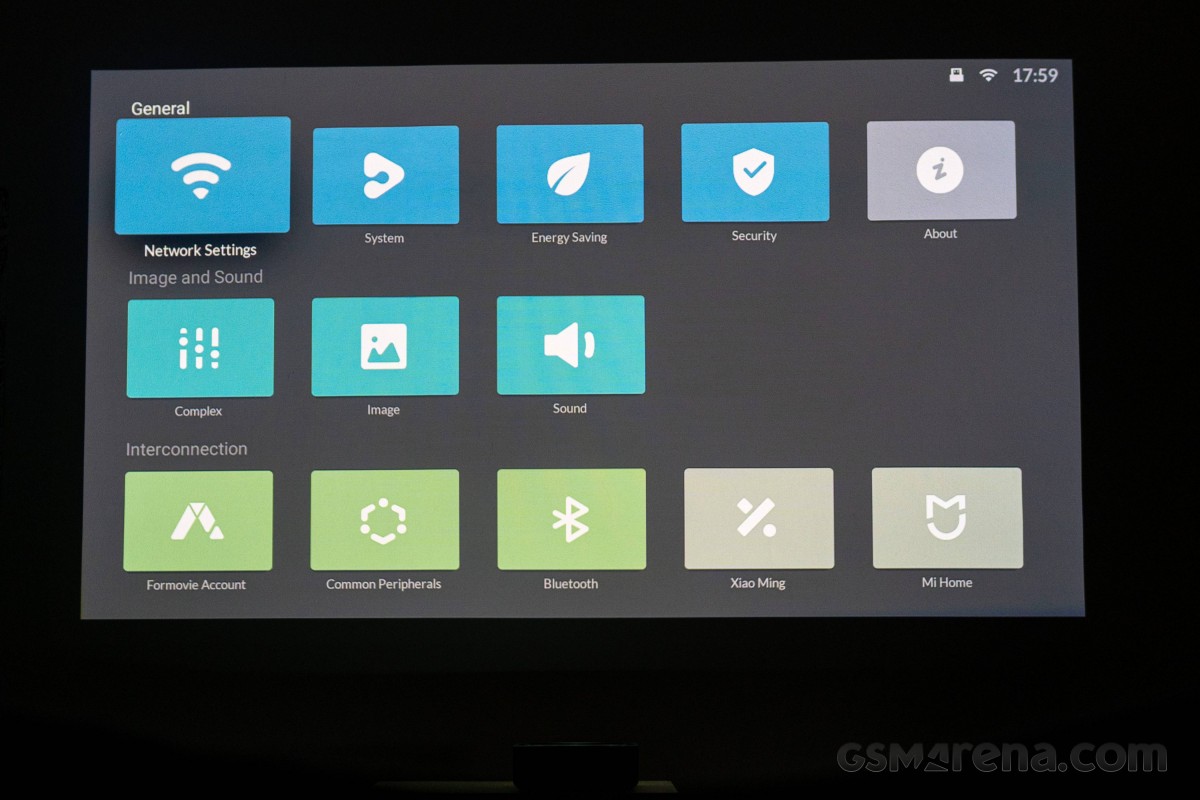 So effectively, after doing all this, the R1 Nano is perfectly usable, just like any other Android TV device despite having FengOS, right? Unfortunately not. Some of the issues we ran into include no official YouTube app, since that requires Google Services and no HBO Max app. Aptoide TV has a few, but not a single one wanted to actually work on the R1 Nano.
Netflix is also cracking down on less secure devices using its app. We only managed to find a single Netflix APK that actually works, and it is not entirely TV-optimized and still requires a mouse. Even then, you are limited to SD streaming since the R1 Nano only has Google Widevine L3 certification.
While mostly usable, especially after some tweaking, FengOS on the R1 Nano lacks some vital DRM and app support to make it a proper and functional streaming and multimedia consumption tool. Going for the Chinese R1 Nano as a western user kind of necessitates grabbing some HDMI streaming stick or box to go along with the R1 Nano.
Chipset, performance and video decoding and playback
The FENGMI R1 Nano is not a powerhouse in terms of hardware, which is true for most Android TV devices out there. Since the OS itself is much more lightweight than a full-fat Android install, it requires a lot fewer resources to run smoothly.
FengOS is snappy with little to no actual stutters or slowdowns while browsing menus and apps.
The Amlogic T972 chipset inside the R1 Nano has a total of four Cortex-A55 CPU cores, clocked at up to 1.9 GHz and a Mali-G31 GPU that supports OpenGL ES 3.1 and Vulkan 1.1. A decent all-around improvement over the previous generation Amlogic T962 chip. The new Amlogic T972 is built on the 12nm FinFet technology. This significantly increases operating speed while reducing power consumption by 55% compared to the previous generation ancient 28nm chipsets. The R1 Nano pairs the chip with 3GB of RAM and 16GB of storage. Both are enough to power streaming apps and handle on-device cache.
Just for the fun of it, we ran GeekBench 5 as well as GFXBench on the R1 Nano. You can see the laughable results below.
The Amlogic T972 does, however excel in one particular area that actually matters for a multimedia consumption device – hardware video decoding. The T972 successfully decodes up to 8K (7680×4320 pixels) video with 10bit YUV4:2:0 color depth support and dynamic HDR. While the projector itself can't display HDR content, the silicon is capable of decoding HDR10 and HLG, which can then be tone mapped by the player and still displayed in SDR.
In terms of audio, the R1 Nano can handle Dolby Audio and DTS HD. In fact, the Amlogic T972 also powers some of Xiaomi's Mi TV Pro smart TV devices, which is a pretty good advertisement for its capabilities.
The R1 Nano has a default video player which is fairly well-rounded in terms of UI and options. Screenshots inside it are forbidden reasons, so you'll just have to trust us when we say that most core settings are there, as well as support for subtitles. The player even allows you to quickly adjust some of the projection settings.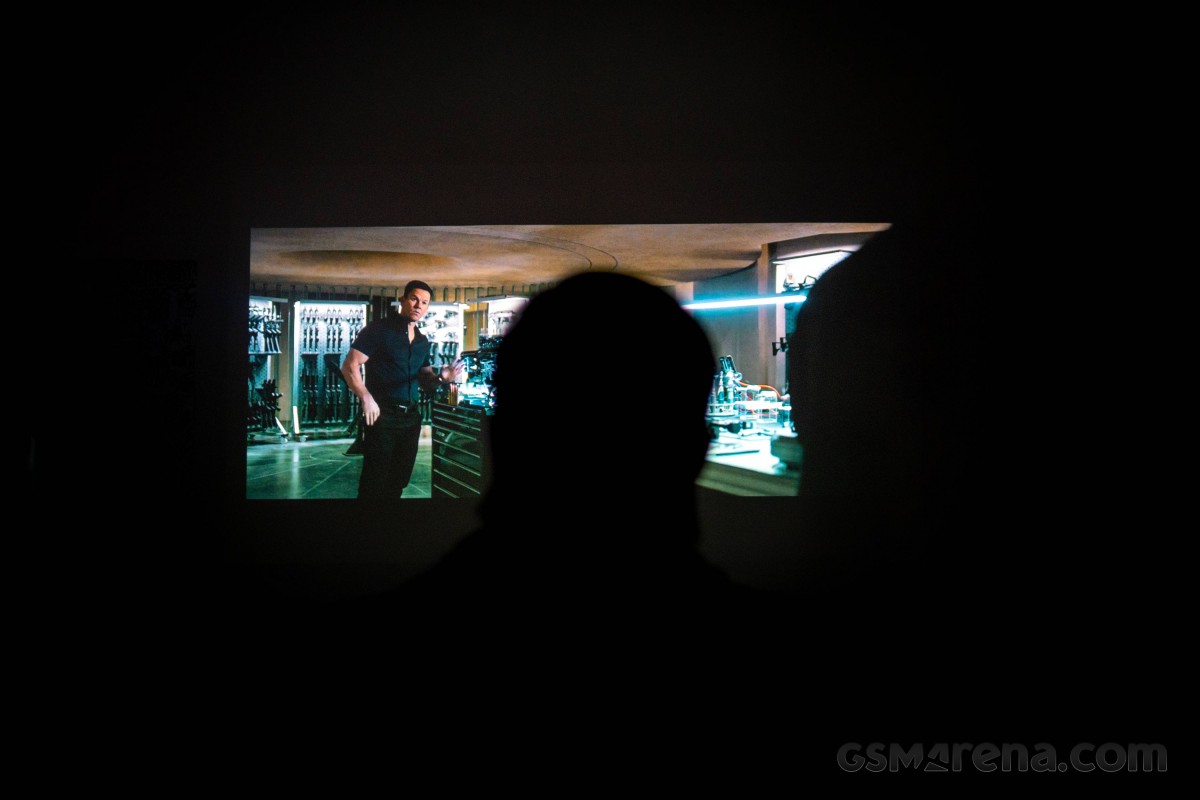 We went all out when it came to testing format support on the player and R1 Nano and were quite pleasantly surprised. Basically every test clip we threw at it from this excellent list, maintained by the KODI team, played with no issues. This includes practically every audio test, while in terms of raw decoder performance, not even the insane 400 Mbps HECV Main 10 MKV Jellyfish sample managed to choke the R1 Nano. It played it back with no lag or stutter. For some context, HD Blue-ray discs top out at around 40Mbps, 4K ones with 10-bit HEVC at up to 128Mbps. Apple TV, which is one of the higher bitrate options, can go up to about 40Mbps, while Netflix now does per-shot encoding at up to about 18Mbps.
Most movie rips available online are usually below 30 Mbps, even at top 4K quality with HDR. The R1 Nano is more than capable in terms of decoding. We should, however, note that some direct play 4K videos in Plex stuttered a bit at around 25 Mbps. The majority played back smoothly, though, so we are inclined to blame it on the shotty Plex app for Android TV, sideloaded to FengOS.
Final thoughts
The FENGMI R1 Nano is an interesting piece of hardware, no doubt about that. It's actually what enticed us to import one from China in the first place. While some parts of its official specs sheet, notably the advertised 1200 ANSI lumens of output, are exaggerated, the performance and features the R1 Nano manages to offer are still nearly impossible to beat in its particular portable form factor. If you have portability high up on your list of requirements the R1 Nano may well be worth considering.
With an MSRP of under $1,000 (before shipping and import taxes), an ultra-short-throw ALPD laser projector with 1080p native resolution, excellent picture quality, solid audio and capable, if not exactly Western-friendly smart features, is a good value proposition in itself. However if you don't feel like spending a few days figuring out its idiosyncrasies and prefer stuff that just works you are best advised to keep away.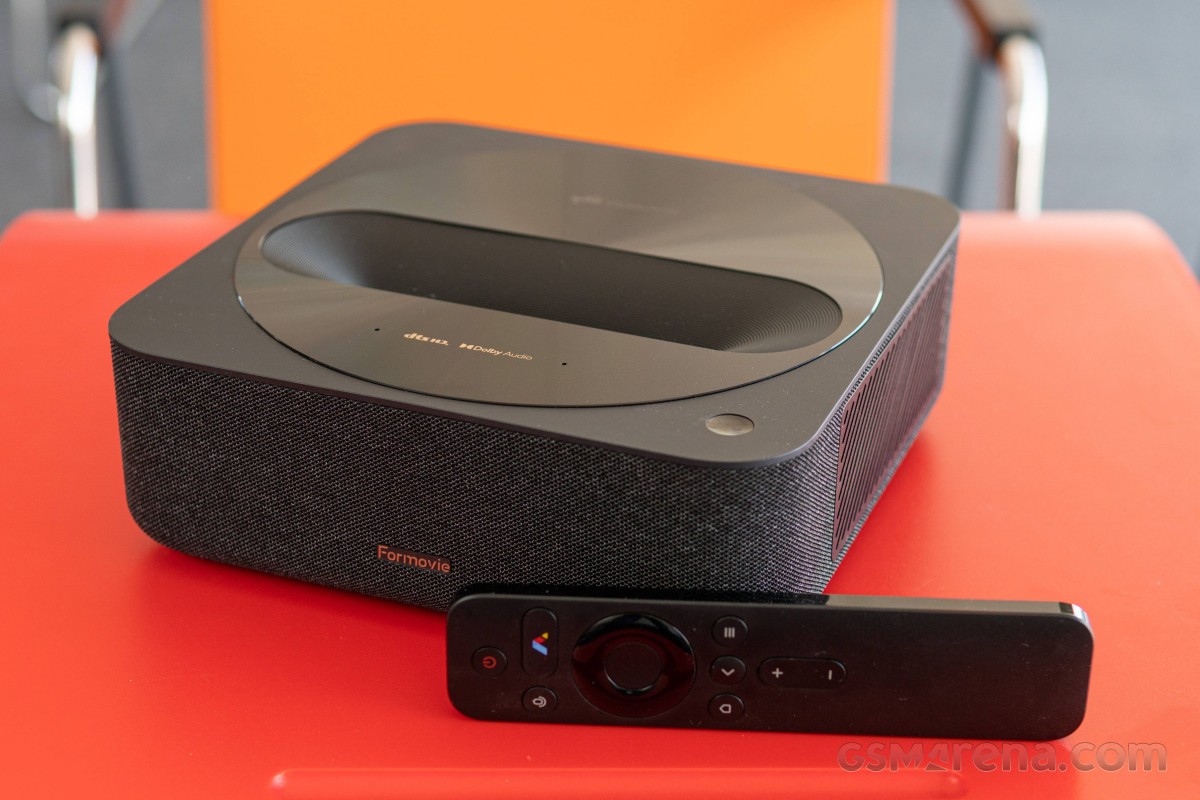 We can only hope the R1 Nano gets a proper international release. Most of its issues are related to the fact that it is a Chinese unit we are importing into Europe and they are serious enough to turn off all but the most enthusiastic geeks.
Pros
Very compact and light for a 1080p UST ALDP projector.

Solid build quality, with a premium look and feel.

Great 2x5W speaker setup. DTS HD and Dolby Audio decoding.

Automatic focus, keystone correction and presence detection all work great. So do manual adjustments.

Decent selection of ports. The HDMI 2.0 port, in particular has both ARC and CEC.

Outstanding picture quality – great contrast, deep black levels and colors. Great sharpness with 1080p resolution.

Zooming and panning in software are great to have. The R1 Nano is chuck-full of great image and audio adjustment options.

The Amlogic T972 is not a CPU or GPU powerhouse, but still runs FengOS smoothly. It has great hardware decoding – up to 8K (7680×4320 pixels) video with 10bit YUV4:2:0 color depth support and dynamic HDR (HDR10 and HLG).
Cons
Minimal accessory package.

No lens protection from dust and other elements.

No manual angle adjustment.

Remote control is pretty minimal when it comes to controls.

Not nearly as bright as advertised and not bright enough to use during the day.

Very high input latency making it unusable for gaming, regardless of picture and sound mode.

Our unit has an optical defect.

FengOS is based on Android TV 9, but is not really usable by a western audience – plenty of Chinese apps, Widevine limited to L3 and SD streaming. No Google services and hence no first-party YouTube app. No properly working Netflix app or HBO Max app.
Buy R1 Nano here.